Cat Behavior Demystified: Understanding Feline Body Language and Communicating with Confidence
Cats have long captivated our hearts with their mysterious and independent nature. However, understanding their behavior and body language can be a challenge for many cat owners. By unraveling the secrets of feline communication, we can build a stronger bond with our furry companions and ensure their well-being. In this article, we will demystify cat behavior, shedding light on their body language and providing you with the tools to communicate with confidence. From tail movements to vocalizations, let's delve into the fascinating world of cat behavior and decode the messages our feline friends are trying to convey.
Feline Body Language
Cats are masters of nonverbal communication, using their bodies to convey a range of emotions and intentions. Understanding feline body language is crucial for cat owners and enthusiasts to ensure the well-being and strengthen the bond with their furry friends. Here are some key aspects of feline body language to help decode their silent messages.
Understanding feline body language takes time, observation, and patience. By paying attention to their tails, ears, eyes, body posture, and grooming habits, we can better comprehend our cats' emotions and respond appropriately. This knowledge enables us to create a safe and nurturing environment for our feline friends, strengthening the bond and promoting their overall well-being.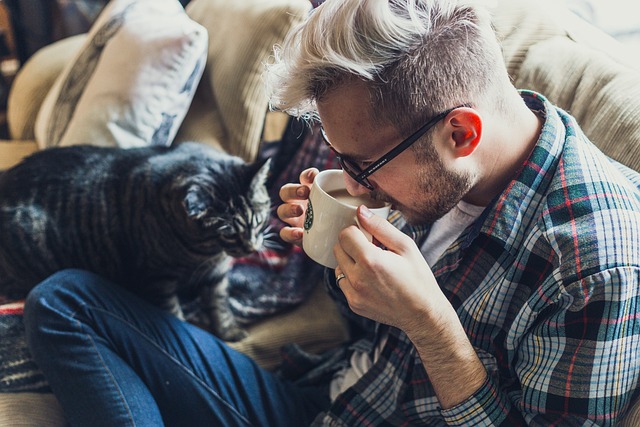 The Tail's Tale:
A cat's tail is a window into their emotions and intentions. Pay attention to its position and movements. A relaxed tail held straight up or with a slight curve indicates a content and confident cat. A puffed-up tail suggests fear or aggression, while a tucked tail signifies anxiety or submission. A flicking or twitching tail can indicate excitement or irritation. By observing their tail, you can better gauge your cat's mood and respond accordingly, creating a calm and harmonious environment for them.
Ears: The Feline Mood Indicator: Cats use their ears to communicate a range of emotions. Forward-facing ears with a relaxed posture signify curiosity or friendliness. However, flattened or backward-facing ears indicate fear, aggression, or stress. Twitching ears can suggest alertness or irritation. By observing your cat's ears, you can gauge their emotional state and adjust your interactions accordingly. If your cat's ears are flattened or pulled back, it's best to give them some space and reassess the situation to avoid any potential conflicts or discomfort.

Get Cat Language Bible

The Language of Purring: Purring is a hallmark of feline communication, often associated with contentment and relaxation. However, cats can purr in various situations, including when they are anxious or in pain. Understanding the context is crucial. A relaxed cat with closed eyes and a gentle purr typically signals happiness and comfort. If your cat is purring excessively or in combination with other signs of distress, it may be a signal that something is amiss. In such cases, provide a calm and secure environment or consult a veterinarian to address any underlying health issues.
Meows and Vocalizations: Cats have a repertoire of vocalizations to express their needs and desires. Each meow carries a unique meaning, ranging from a gentle greeting to a demanding plea. Pay attention to the pitch, tone, and intensity of your cat's meows. A high-pitched, short meow may indicate excitement or a request for attention, while a low-pitched, prolonged meow may signal discomfort or hunger. By listening to their vocalizations and observing their body language, you can better understand what your cat is trying to communicate and respond accordingly.

Get Cat Language Bible

Eyes: The Window to the Soul: A cat's eyes can convey a wealth of information. Wide-open, relaxed eyes indicate a comfortable and friendly cat. Dilated pupils often indicate excitement, fear, or aggression. Half-closed eyes can signify contentment and trust. Blinking slowly at your cat is a sign of affection and can help build trust and rapport. However, staring directly into a cat's eyes without blinking can be interpreted as a threat. Respect your cat's personal space and avoid prolonged direct eye contact, especially with unfamiliar cats, to prevent any potential confrontations.
Body Posture and Gestures: Cats communicate through their entire body, not just their tail and ears. A relaxed and open posture, with a straight back and no arched or fluffed-up fur, indicates comfort and confidence. Conversely, a hunched or arched back can signal fear or aggression. Watch for other gestures such as kneading, stretching, or rolling over, which often indicate contentment and trust. Understanding your cat's body language and responding appropriately will foster a deeper connection and allow for better interaction and mutual understanding.
Conclusion: Decoding cat behavior and understanding their body language is an essential skill for every cat owner. By observing and interpreting their tail movements, ear positions, vocalizations, eye expressions, and body postures, we can better understand our feline companions and communicate with confidence. Building a strong bond based on trust and understanding will create a harmonious environment for both you and your cat. Remember to be patient, observant, and responsive to your cat's cues, and with time, you'll become fluent in the subtle language of cats, enhancing your relationship and enriching both of your lives.
More articles on cat behavior check out this interesting article on why cats meow in the morning link